RFQ automation
Custom multi-leg strategies
RFQ Board
RFQ automation
Automated RFQ workflow with integrated position builder
Anonymous RFQs with two-way quotes
End-to-end connectivity with OKX risk management and settlement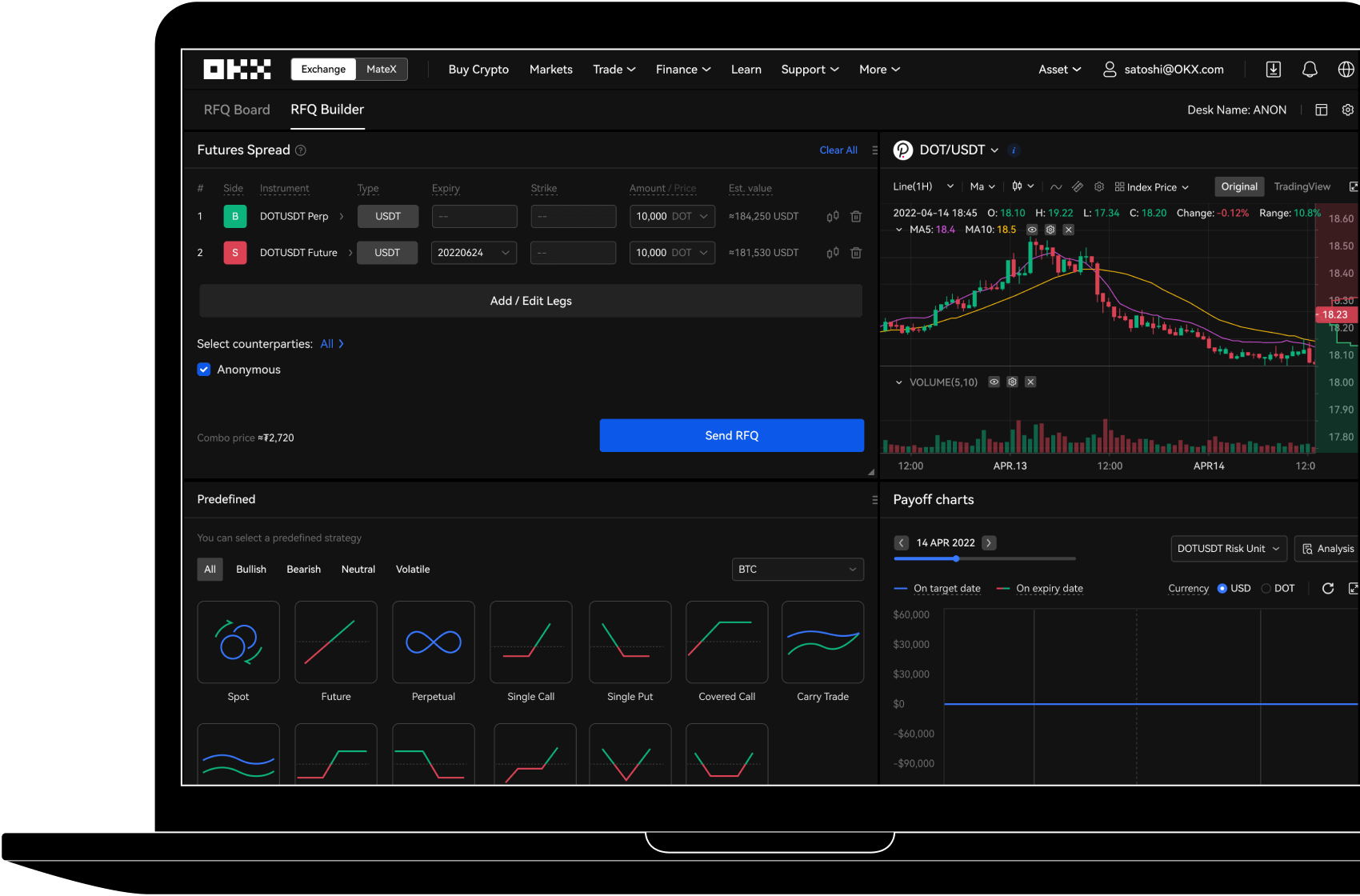 Custom multi-leg strategies
Choose from a variety of classic strategies: futures spread, carry trade, and more
Request quotes on futures spreads and basis trades at a click of a button
Easy way to express views on market direction and volatility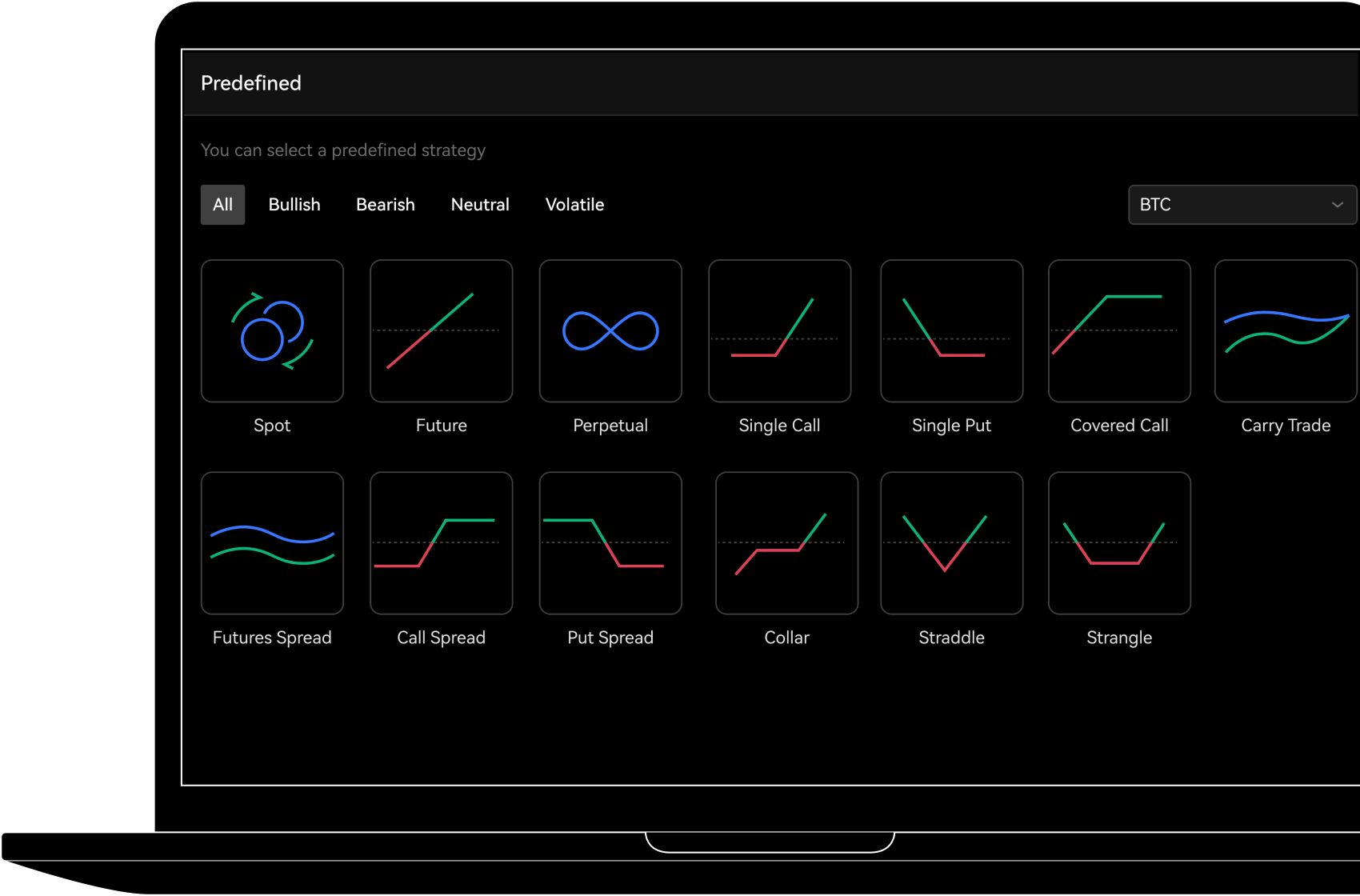 RFQ Board
View competitive two-way quotes on your RFQ, ensuring your price is the best one available on the market
Secure your assets with OKX's risk management, clearing, and settlement system
Easily view, manage, evaluate your RFQs and quotes in one place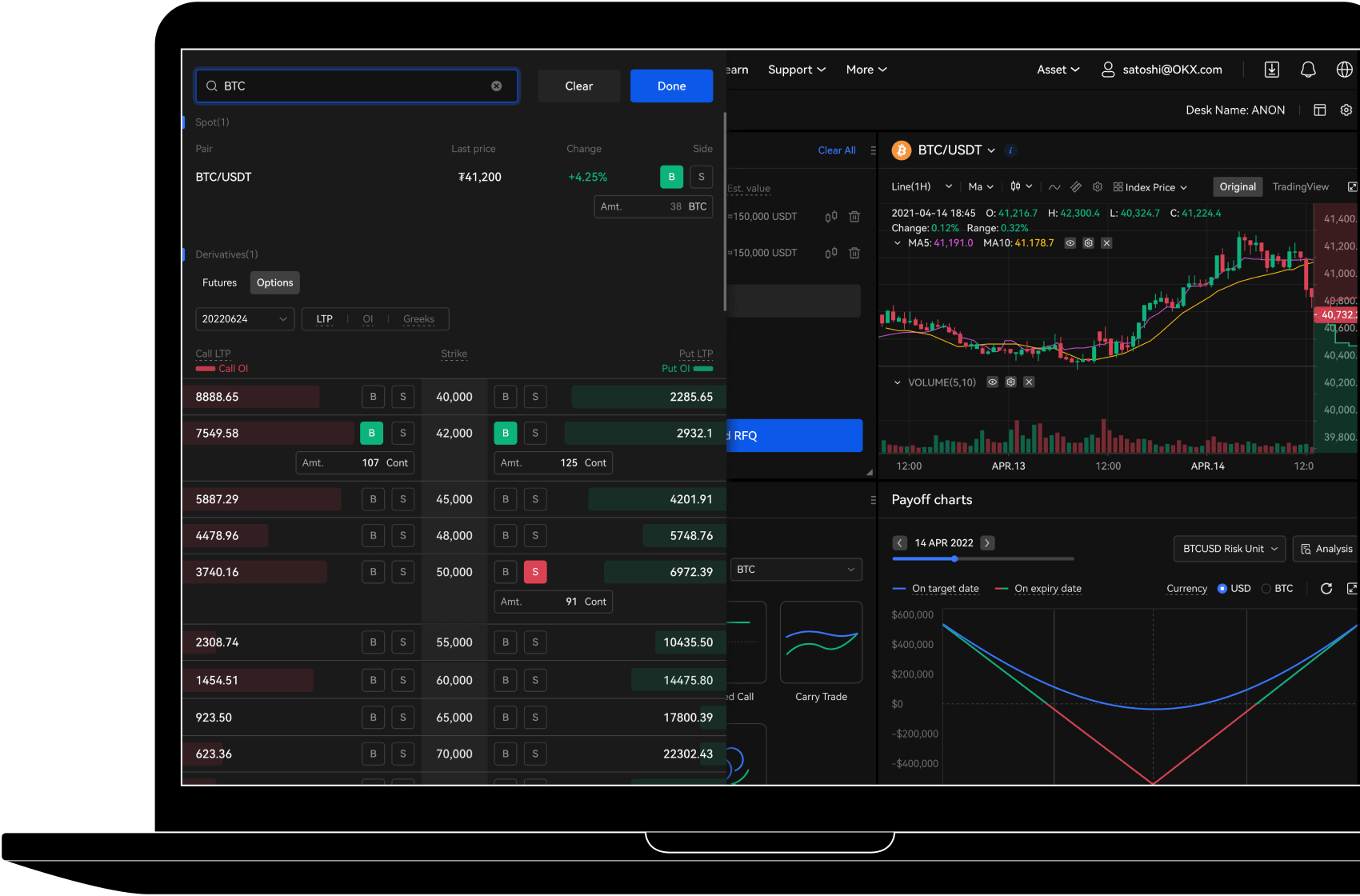 Liquid Marketplace in an example
Let's say, you want to sell 1,000 ETH at the market price of $1,900. Now, that's a million-dollar trade. Once it gets put on the order book, it may cause price slippage and drive down ETH's market price. Instead of impacting the market, you can secure a favorable price by placing your oder on our Liquid Marketplace. First, send an RFQ only to the market makers you selected and receive two-way quotes. Then, choose a price you like and carry out the trade discreetly.
Learn more
FAQ
A block trade is a large, privately negotiated securities transaction that is settled over-the-counter (OTC). They are common among institutional investors, hedge funds, and high-net-worth individuals deploying significant capital. When executing large orders on exchanges, traders risk disrupting the market and causing extreme price changes. Alternatively, takers and makers can agree on a settlement price discreetly and privately with a request-for-quote (RFQ).

A request-for-quote, or RFQ, is an electronic notification sent to market makers expressing the sender's intention to trade a specific instrument or strategy. Market makers will be alerted once an RFQ has been sent and will be prompted to submit an ask and a bid price for the request.

Is there a minimum assets requirement for trading in the Liquid Marketplace?

Yes. In order to trade in the OKX Liquid Marketplace, please make sure your OKX trading account has at least 100,000 USD or equivalent.

What is the minimum size of a block?

On the Liquid Marketplace, the minimum notional size of an all-spot RFQ is 10,000 USD or equivalent. For all other RFQs, the minimum notional size is 50,000 USD or equivalent. The minimum notional size subjects to exceptions during times of market volatility.

Which trading pairs are supported in the Liquid Marketplace?

All trading pairs listed on OKX are available to trade on OKX Liquid Marketplace.

What instruments are available in the Liquid Marketplace?

Spot, perpetual swaps, futures, options, and multi-leg strategies are supported on OKX Liquid Marketplace.

What information is required to start trading in the Liquid Marketplace?

You must first pass identity verification level 2 — photo verification.